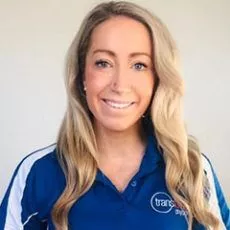 A lifelong love of sport and fitness lead Emily to begin her career in the health and fitness industry in 2005 whilst studying a Bachelor of Exercise and Sports Science and Diploma of Secondary Education. After 6 years of teaching Secondary Health and Physical Education, Emily decided to fulfil a lifelong goal of pursuing a career in Physiotherapy, graduating with a Masters of Physiotherapy from Flinders University. Emily's experience in both the fitness industry and across a multitude of sports in both athletic and coaching roles, as well as her first-hand experience of sporting injuries has helped to cultivate a passion for helping others overcome their own pain and limitations in order to achieve their goals. She believes whole-heartedly in utilising a multi-dimensional, patient-centred approach; and in the lifelong benefits of exercise – as both a lifestyle choice, a rehabilitation and/or pre-habilitation tool to ensure the best outcomes for her patients. Emily has had experience with and has developed a keen interest in the following clinical areas:
● Chronic disease management of musculoskeletal conditions e.g. Osteoarthritis
● Gerontology – including gait retraining, falls prevention, balance training, manual handling advice for carers/family members and clients, and exercise programs for more senior clients
● Early intervention and management of musculoskeletal conditions such as tendinopathies, bursitis, adhesive capsulitis etc.
● Physiotherapy management of Neurological conditions such as MS, Parkinson's Disease and Stroke
● Post-operative rehabilitation e.g. total hip arthroplasty, total knee replacement, sub-acromial decompression, post-ORIF joint procedure rehabilitation
● Sports injuries and acute musculoskeletal injuries
● Physiotherapy management of chronic cardiorespiratory conditions such as COPD
Emily may be contacted on edix@transformphysio.com.au should you have any further queries, and is currently available for appointments at the Keys Medical Clinic on Tuesday afternoons from 3 pm – 5 pm.